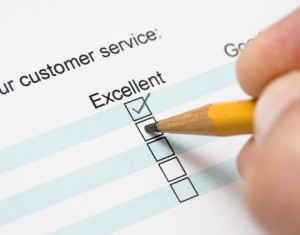 Winning back a lost customer will always be a challenge. As a salon owner, losing a valued customer can be frustrating to see a client once, and then never  again. The key to winning back a lost customer depends on your ability to  finding ways to turn a lost customer into loyal, long-time customers who will refer friends, relatives and business associates to your business.
When a client doesn't return or have been away for a long period of time you have to wonder whether he or she was dissatisfied with your salon or one of your stylists, and if so,  find out why and regain their trust and loyalty. The consequences of losing customers can be devastating . You not only lose potential referrals, your salon's reputation, and potential loyal customers; you also risk negative word of mouth advertising in your community. Losing just one customer and their family over the course of the year can cost you upwards of $3,000.00 per year in lost revenue.
The real damage is the negative word of mouth within the community.
There can be many reasons why clients may be dissatisfied with your salon or one of your staff members . Perhaps they experienced poor customer service on the part of their hairdresser, lack of communication, or were kept waiting too long; maybe they followed one of your staff members to another salon due to employee turnover.
Whatever the reason, your challenge is to find out why they did not return and try to win back their business.
This is important for two reasons: — you want to seek customer feed back and avoid repeating the same mistake, you want to monitor your stylist customer return rate and referrals, and you want to give your customer an incentive to come back, and  avoid negative word of mouth publicity about your salon and your team,which can be devastating to your business and your team.
The good news is, it's actually easier to win back past lost clients than to gain new customers who have never visited your salon before. Why? For starters, your past clients already know about your salon and are familiar with your services. Also, they probably live close to your salon. Let's face it, advertising for new customers is expensive. Keeping your current clients happy, finding ways to lure back past customers, and creating positive word-of-mouth advertising are far better cost effective ways to market your business—and cheaper too, especially with email marketing and social media.
Win-back Strategy #1:
Turn Goodbyes into Hellos
Ever so often, pick up the phone and call customers you haven't seen in awhile. A quick call to say you've missed them will go a long way toward restoring their trust and confidence. It will also give you the chance to seek out feedback, listen to their responses, and make the appropriate adjustments and improvements. Then make them an offer they can't refuse!
Win-back Strategy #2:
Use Change to Your Advantage
Sometimes your clients will want to try a different hairdresser in your salon, but feel embarrassed or intimidated; rather than embarrass themselves they try another salon. It is essential that  your customers know you encourage all customers to feel free to select or change hairdressers in your salon at any time.  All you have to do is post a simple sign, like this one, at your front desk that says please feel free to choose from any of our stylists, your unconditional satisfaction is all that matters to us not our egos.
Win-back Strategy #3:
Focus on Your Follow Up
Make sure you collect addresses, phone numbers, and email addresses from everyone who patronizes your salon in your private salon's data base., then keep in touch. Regular, ongoing contact with customers is a proven way to build strong and lasting relationships with customers. Try mailing a postcard or personal letter every few months, or perhaps a monthly or quarterly salon newsletter.
Email is the easiest and least expensive way to communicate with your present, future, and past clients. Here's a great online tool that makes it easy to stay connected: Constant Contact® (www.constant contact.com) Their site offers excellent tutorials, provides a number of email templates to choose from, manages your address list, and will even help you write your own email newsletter.
When your past clients receive a note from you now and then, they'll remember you. And over time, they will be more likely to visit again—especially if you exceed their expectations and offer them an incentive. The following is a sample letter you might send a past client. Feel free to personalize it for your own use or compose one of your own.
Dear Friend and Valued Customer,
Hello, this is Joanne O'Connor, owner of Joanne's Skin Care Center. I see that it has been a while since your last appointment. We miss you.
Nothing matters more to us than your complete satisfaction. If we did not measure up to your expectations for some reason, we would love the opportunity to win you back as a valued friend and customer. In fact, your business means so much to us that we invite you to come in for a free consultation and 50% off your next visit.
Would you take a moment to give us some feedback and let us know how we're doing? We value your opinions. Rest assured, we will continue to improve our salon and services, and work hard to exceed your expectations.
Thank you for your business. We look forward to seeing you again very soon!
Please Circle one :

Joanne O'Connor, Owner

Joanne's Skin Care Center

| | | |
| --- | --- | --- |
| Were you happy visiting our salon? | yes | no |
| Will You Be Back? | yes | no |
| Were you happy with your hairdresser? | yes | no |
| Will you refer your friends,colleagues,relatives,and business associates? | yes | no |
Suggestions on how we can improve?
Please help us get better,your comments are important to our success

Finding new clients may be difficult and costly, but keeping them loyal to your salon doesn't have to be. I encourage you to read my article "Build Customer Loyalty to Your Business by Developing a Powerful Communication Strategy," in my articles of interest found on my web site for more tips and ideas on this subject
Please visit my business fan page on FaceBook for ongoing information.