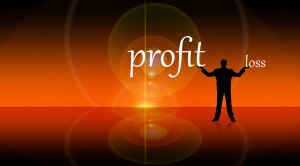 "The worst crime against working people is a salon that fails to make a profit."
Attention Hairdressers —– Profit is Not a Dirty Word!
There is a widespread misunderstanding by many hairdressers why a business needs to make a profit.
Sadly, many hairdressers feel that salon owners are greedy .
In chat rooms I read comments like how dare the owner makes a profit off of me. Salon Owners are greedy. Salon Owners are rich. Why should the owner keep half of what I earn? Salon owners drive around in fancy cars. Salon owners use me to make money. These types of comments go on and on. Sadly comments like these are rampant within the beauty industry. Perhaps these are some of the reasons why the standard of living for hairdressers are so low.
I can assure you most salon owners are not rich. They are usually the first to work and last to leave. Many give up their valuable time to educate and mentor their staff. Their business does just not finish at the salon, it usually consumes a lot of time on the weekends as well. Most salon owners work behind the chair 10-12 hours a day,just to pay their overhead. Sadly far too many salons are struggling or going out of business. I am writing this article to help hairdressers understand why  a salon needs to grow and remain profitable and why this is important to you.
Owning a successful and profitable salon is extremely difficult in today's competitive and tough economy.
Without profits there are no jobs, no job stability, no business growth and stability, no money for advertising, no opportunities for ongoing education, or benefits package.
We are fortunate in that while unemployment is at record highs,while many people can't find a job in other occupations, the demand for hairdressers will continue to grow. A truly educated professional will never be out of a job, once you create a demand for your services.
Many salon owners invest in many instances their life's savings,take financial risks to go into business, they have to worry about the risks and financial obligations when committing to a lease, paying rent whether they are busy or not. They have to pay employment taxes, book keeper, hiring people, combating competition by well financed and well managed salons,sacrificing time away from your family, competition, price wars, advertising expenses, workers comp, licenses, fees, sacrifice time with their families, pay rising utilities etc. This doesn't account for the stress, worry, and frustration of owning a business and the sacrifices and in many instances their life savings they and their family risk when they decide to go into business.. The list goes on and on.
Where were these attitudes formed? There is a great need to educate our young people to better understand the business aspect of salon ownership and why a salon's profitability is so critical for both owner and staff.
Many people chose not to go into business because of the many sacrifices and risks involved in owning a business, especially in today's tough and uncertain economy.
These entrepreneurs and risk takers should be applauded, for their sacrifices and create jobs. And if their fortunate to make a profit, they deserve it and should be rewarded for their entrepreneurship.
Some day you may want to own your own business, do so in an honest and ethical manner, what goes around comes around.
For those of you who criticize salon owners; you also have the opportunity to own your own business as well. Many hairdressers are getting a taste of how difficult it is to earn a living by renting a station or entering into franchise suites.
Going this route requires you to pay rent, busy or not, pay your state and federal taxes, pay your own education expenses, your own taxes, supplies, liability insurance, compete with other booth renters who lower their prices, no teamwork, doing your own book work, paying accounting fees, exposing yourself to frivolous law suits by a disgruntled customers, paying your own marketing and advertising expenses, paying your full social security taxes( as an employee,)salon owners pay half.
As more and more salons fail, be hopeful and thankful that your salon is able to stay in business and remain profitable, to insure your job security; with profits, owners will be able to offer incentives, provide education, and provide a benefits package.
It is my wish this article will help you better understand why a business that is profitable will be in your best interests. We need each other more than ever.
If we keep fighting among ourselves,low price franchises will continue to grow. Let us work together to build high end salons .Customers are willing to pay extra if we exceed client expectations.
I'm sure many of you may not have the perfect boss at times, but you may not be the perfect employee at times. I hope this blog post will help us better understand one another why we need to contribute to a profitable business.
Some day you may want to own your own business.
I do hope this blog post will give you a better understanding why your salon needs to continue to grow and is profitable.