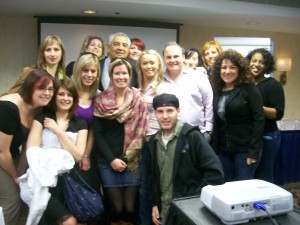 Our business growth, stabilit  and profitability  depends heavily on staff retention. The  performance of our staff and the avoidance of staff turnover and staff stability are keys to staff retention.  No salon can continue to grow and be profitable with a constant merry go round of staff turnover. How can we grow our business with a merry go round of staff turnover? How are we to raise prices in this scenario.  Business stability and growth is essential to growing a successful and profitable business. This benefits our salon, our staff and our profession. One of the biggest questions I am asked is how do I find and keep quality hairdressers who share my vision, my goals, and quality control standards.
Now with the new minimum wage and overtime pay mandated by the government,our challenges becoming more and more difficult.
Paying people to learn on paying customers is an expensive challenge and can affect your client retention efforts.
On Sunday and Monday May 21-22,2017 in Las Vegas I will be presenting a very comprehensive all day personal development seminar for hairdressers to help you find solutions to these challenges. Click here
Not only will I help you identify and prevent many of the causes of staff turn over, improving staff performance,client retention, instill positive work habits and attitudes, bridge the gap between staff and management,  improve customer service and more . Refer to the above link.
These are extremely challenging times, let me be your partner in creating a loyal and high end professional.
I do hope the following tips will help you combat turnover.
The following guidelines can help you avoid staff turnover:
Develop Your Championship Team — a team atmosphere where everyone shares the same vision and goals of management is a trade mark of strong management. A house divided will never grow. Make sure when you add a new member to your team, they will be compatible with your other staff members. Be very careful in your hiring decisions. Refer to my book Creating Your Salon. Click here.

Invest in Educating Your Team — invest in your salon's greatest profit potential — educate your staff. As leader of your team it is your responsibility to take your team to higher levels of excellence.If you can show them how to double and triple their income, you will double and triple your profits. I can do this for you at my seminar for hairdressers in Las Vegas
Create a Positive and Professional Salon Environment — No professional wants to work in a salon where salon gossip,pettiness,and negativity runs rampant. This type of behavior affects  your staff, customers and your bottom line.
Praise and Recognition —— a little pat on the back from time to time will work wonders. Maybe a little note in their pay envelope saying your doing a great job. As coach of your team your challenge is to make your staff feel valued and appreciated. Always look at the positives of each staff member. Work hard to build self esteem and self confidence in all your team members.
Let Them Know Your Expectations — how can you expect your staff to perform if they do not know what your expectations and how those expectations will be measured. Your employee handbook will be a good start.
Be a Mentor or Coach —– as leader of your team, lead by example,create working conditions that foster loyalty. Work hard to help your team be successful. Let them know your door is always open,create an environment of trust not fear.  Always invite employee feed back by one on one evaluations from time to time.
Keep Them Busy ––with a measured flow of customers through marketing and advertising. Make sure you monitor their performance and client retention rate.
Develop Your Own Employee Training and Development System — develop an easy to understand quality control learning system. As owner of your business you must develop your own quality control standards. Your welcome to follow mine. Click here.
Incentives and Rewards — give them incentives and rewards for being a peak performer, Perhaps a gift certificate for dinner, tickets to a movie, a picnic for the entire family,etc. Contests for highest retail sales for the quarter, perhaps best client retention rate, perhaps bonuses for attendance and tardiness. There are many ways to reward your team cost effectively,the bottom line is to try to make their jobs fun and rewarding.
Sending them to my personal development seminar in Las Vegas,would be a great way to let them know you value their work efforts and loyalty.
Despite your efforts  there will always be the challenge of potential turnover, but if you follow these guidelines you can help prevent staff turnover, there will always be people you will never please, that's alright they are probably people with negative attitudes and will be doing you a favor. For more information please visit my web site at www.hcds4you.com.