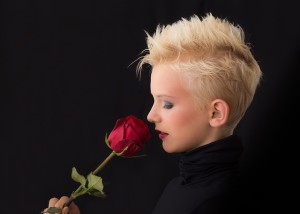 "High end and well managed salons place a high priority on customer service."  Jon Gonzales
Your Competitive Edge

Top salons set a high priority on excelling at  customer service. Salon owners and hairdressers  know that excelling at customer service gives them a competitive edge.
Think about your own experiences when you patronize a business. Have you ever ever experienced poor customer service experiences at a clothing store, bank, grocery store, or restaurant? If so, you probably decided not to patronize that business again based on how you were treated as a customer. Plus, aren't many of your purchasing decisions based, in part, on your first impression when you enter a business? Therefore, I encourage each member of your salon's team to greet and acknowledge every customer enthusiastically and with a smile. As a hairdresser and salon owner, I encourage you to show a genuine and caring attitude toward your customers.
Make sure you create a positive first impression by your appearance, words, and actions. Remember, you never get a second chance to form a positive first impression.  This is just one of the expectations your customers expect (and deserve) when they're deciding whether they'll remain loyal and keep coming back.
Excelling at customer service includes every action that contributes to your customer's first to last impression of you and your salon. This includes your appearance, professionalism,  salon services ,customer-handling procedures, personality, sincerity, and telephone manners. Every word, action, and behavior will contribute to a favorable or unfavorable impression of your salon.
Keep in Mind that the Salon You Work for Must Succeed
Salons must succeed and be profitable if they want to grow and improve profits. This guarantees job security for the entire staff. If there are no profits, how can you as a hairdresser expect the owner to invest money in education, marketing, and advertising and to offer benefits and advancement opportunities?
Unfortunately, in many salons there seems to be a wide gap of mis understanding between hairdressers and salon owners. This hinders the progress and success for everyone in the salon. I urge you to read my article "Bridging the Gap Between Staff and Management." If we are to develop our profession so it brings success to everyone—personally, professionally, and financially—we need to all do our part as professionals and share the same vision toward excelling at excellent customer service and creating a successful, profitable salon. Remember, teamwork benefits everyone.
In today's hectic times, hairdressers have a wonderful opportunity to enrich clients' lives by making them look good and feel good about themselves. You should always treat each and every client that patronizes your salon as valued guests. Give each person the V.I.P. treatment. These positive actions will show your customers that you truly appreciate their business. Positive word-of-mouth referrals will be your reward—and your key barometer—on how well you and your team are performing.
I will be presenting my all day Personal Development Success Seminar for Hairdressers, and Beauty Professionals in Las Vegas,September 19 for professionals who want to gain that competitive edge and renew their passion to succeed.
What you didn't learn in beauty school is camouflaging your full learning and earning potential. Click here.
Follow these tips:
The Consultation Process
Lack of communication is the number-one reason salons and hairdressers lose customers. Make sure you clearly understand each client's needs by listening and, in an articulate manner, offering your professional opinion on what you feel is right for that client. (I urge you to read my book A Hairdresser's Guide to Success—Personally, Professionally, and Financially for an in-depth discussion on customer service during the consultation process.) Click here.
Here are key questions to use in the consultation process with your clients:
Are you pleased with your present hairstyle?
Would you like my professional opinion on a hairstyle that complements your best features and is just right for you?
Are you partial to long hair? Let's talk about the length of hair you'd like, so I don't cut it too short for your preference.
Do you want an easy-maintenance hairstyle?
If you're inexperienced and unsure about a particular style or color, don't hesitate to ask for a second opinion from your salon's owner or director of education.
Your Goal Is to Seek Your Client's Unconditional Satisfaction
In order to excel at customer service, you must identify your client's needs, fulfill those needs, and exceed client expectations by doing more than what's expected. This is a simple formula, but it works beautifully.
Think about your most recent contact with your client. What kind of impression do you think you made? Do you think you delivered unconditional satisfaction?
Did you represent your salon and yourself in a professional and positive manner?
Did you stay focused on their beauty needs, or did you involve your client in your own personal problems?
Did your appearance project a positive and professional impression?
Did you allow time for consultation with your client? Or were you running behind because you were late for work?
Did you smile,and display a great personality?
Were you enthusiastic toward understanding your client's needs?
Did you show a genuine caring attitude toward your client?
Did you work hard to fulfill and exceed your client's expectations?
Keep these guidelines in mind. If you want to be respected and compensated as a professional, you must look and act like a professional. As professionals and as a team, your actions and behavior can help earn your clients' long-term trust, loyalty, confidence, and patronage. You win, your clients win, your salon wins, and the image of our profession wins.
Excellent Customer Service and a Positive Attitude Will Take You Far
Whether you speak to customers in person or on the telephone, your positive attitude and behavior toward clients will shine through and set the tone for a positive impression of you and the salon. Your attitude, behavior, and actions can positively affect your other team members as well.
Displaying a positive attitude toward customer service involves developing a positive attitude toward clients as well as your boss, your fellow team members, your profession, and your personal life. All this will contribute to a positive and professional salon environment, which is critical to delivering excellent customer service.
A sincere and caring attitude toward understanding your clients' needs will set the stage for everything that follows in your life. If you're always looking for the good in people and in life, you'll be happier, plus, you'll make a tremendous contribution toward improving customer service at your salon and improving the image of our profession in the eyes of our customers. A high end clientele will be your reward.
Remember, Great Customer Service will help you stand above the crowd.

Your customer has many choices and price ranges to choose from,exclling at customer service will help you gain that all important competitive edge.
I urge you to be aware of the value of customer service as a competitive edge. When you do, you'll set the stage for unconditional customer satisfaction, positive communications, repeat clients, and a growing clientele from referrals. Those who understand the power of customer service will always be in demand.
I do hope to see you at my special all day personal development seminar ,Success Secrets of High Earning Stylists in Las Vegas September 19.
For complete information and benefits click here.