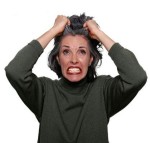 "When you are just average, you are just as near the bottom as you are the top."
Many of us with experience were unprepared for a competitive job market when we entered the job market. Many thought that graduating from beauty school would be all that we would need to build our beauty professional careers. Unfortunately there were other skills we failed to develop that would help us better meet job market and consumer demands such as communication and people skills, personal development, excelling at customer service, learning how to communicate with our customers, learning how to build an upscale clientele, honesty and a code of ethics, client retention and common sense artistic skills for the average consumer who wants an easy to manage hair style.
I am writing this blog article in the hopes that our current and new generations of hairdressers and beauty professionals learn from our mistakes, and seek out higher levels of excellence in education, without learning by trial and error on paying customers. The danger of trial and error is that many hair stylists and beauty professionals unknowingly develop negative attitudes and poor work habits. If you want to be a high end professional and stand above the crowd read this blog post with an open mind.
Beauty Professional Career Mistakes To Avoid
I urge you to avoid the following mistakes. I do hope by identifying and avoiding the following obstacles and challenges, you gain a better understanding of what a career in the beauty profession is really all about without the glitter and hype so prevalent in our profession. This will certainly improve client retention.
Unrealistic Career Expectations — Far too many hairdresser's earnings and career expectations are unrealistic, especially new hairdressers entering the beauty profession. When these expectations are not met they easily become discouraged and disillusioned about the career they have chosen and go from salon to salon, or leave the profession.
Never give up on your dreams. Yes, you will encounter peaks and valleys during your growth and development, it's called paying your dues, but if you are patient, willing to work hard and receive the proper education, you will succeed.
Building a career in the beauty profession is a journey, not a sprint. Hairdresser Development Systems was developed to accelerate your growth and development.
Lack of Self-Improvement — Most people fail because they stop learning. Every day challenge yourself and develop a passion for education and self-improvement.  Every day you learn something new, you will be taking another step up the ladder of success.
Blaming Others — You control your own success or failure. Your greatest obstacle will probably be yourself. You can't always blame your boss or circumstances when you're not busy, sometimes you may have to look in the mirror. Nobody can stop you from learning but yourself.
You may want to give your boss permission to criticize you with an open mind, without taking the criticism personally.
I doubt your boss wants you to fail…your success benefits everyone in the salon!
Job Change Decisions — Job stability is critical. Before you make a decision to change jobs, explore all options within yourself and your boss in private. every time you change jobs you risk going backwards. Read my report on Avoiding the Grass is Greener Syndrome. Click here.
Negativity — Never allow yourself to be drawn into salon gossip and negativity, just walk away. Allowing yourself to be drawn into pettiness and negativity will only undermine your income, growth and development.
Poor Work Habits — The first step to developing excellence within is to establish powerful work habits and positive attitudes. These skills will open up fantastic opportunities as you grow your career.
Lack of Common Sense — don't make hairdressing that complicated. Most clients expect outstanding customer service, they want to feel appreciated, and want an easy to manage their hair between salon visits.
Trust — too much trust in our education system believing beauty school would prepare you to meet job market and consumer demands. You need more a lot more quality education. Sadly sometimes you need to look outside the box.
Following The Crowd — Don't follow the crowd toward glitter and product hype, dare be different, seek out knowledge that will help you raise your standard of living. Stay focused on your educational skills.
Apathy and Indifference — The more you learn, the more you earn. Don't be indifferent toward education and self-improvement. The choice is yours. There is no speed limit to learning.
The beauty profession is changing. If you're serious about maximizing your full learning potential, I urge you to avoid the above obstacles to your growth and development.You may not think you have the perfect boss at times, then again you may not be the perfect employee at times.
We need each other more than ever.
We all make mistakes,we need to join together and make this profession a profession can be be proud to be a part of.  If your serious to developing your full earning and learning potential want more information and want me to be your mentor, I invite you to attend my all day personal development seminar for hair stylists and beauty professionals in Las Vegas. It will change your life — personally, professionally, and financially. Click here.