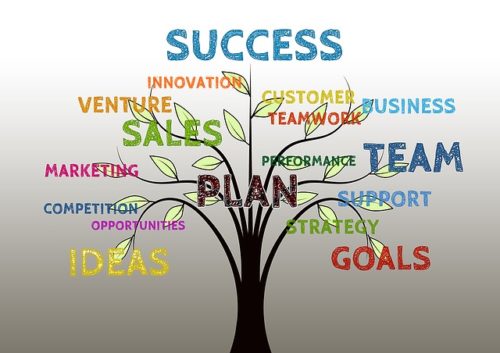 Why is it that some hairdressers make it big while others just get by? How do they stand above the crowd and gain that all important competitive edge?  What makes them different than all the other hairdressers in their community? What is their competitive edge? What is their secret to success?
There are no magic secrets to being a peak performer than just following a few guidelines. The good news is that you will probably win by default because few in our profession will not take the time to learn;  far too many hairdressers and salon owners are either in denial or always looking for excuses to fail.
I urge all hairdressers and beauty professionals to follow these guidelines with an open mind:
Invite Constructive Criticism —  from your boss as a positive learning experience with an open mind. If your boss offers suggestions on how you can improve, listen to their suggestions. Their incentive to help you improve is also a bonus to their bottom line as well as yours.Give your boss permission to criticize you without taking criticism personally. I have yet to meet a salon owner that wants to see you fail. They will appreciate your efforts at self improvement. As an owner,what a joy when one of my hairdressers asked me the question,how can I improve?
Take Responsibility — you can't always blame your boss or other factors for your own success or failure. Nobody is going to stop you from learning and self improvement. The road to your success will always be under construction. Education and opportunities are all around you. If you really want to succeed and are willing to work hard, you probably will succeed. You and only you control your growth and development. You control your future.
Seek Self Improvement — keep challenging yourself every day to keep getting better. The question is do you have the self-management and self-discipline towards your growth and development. I formed Hairdresser Career Development Systems to provide an easy to understand road map for you to follow to make your journey to the top easier than mine. I urge you to read my book A Hairdressers Guide to Success
 Salon owners,this book will prove invaluable towards your efforts to improve staff performance and productivity.
Stay Positive — you are what you believe. You will be surrounded by negativity, if you are truly dedicated to learning and self-improvement you will succeed. Never allow yourself to be drawn into salon gossip.
stop the cycle of mediocrity in your life,instead try to seek higher levels of excellence within yourself by always developing a positive mindset within.
great opportunities will be your reward.
Patience —  Dare to think outside the box, sometimes you have to be a contrarian to separate yourself from the crowd.  For you young hairdressers just starting your career, keep in mind, your growth and development is a journey, not a sprint. You have chosen a profession that  potentially offers many possibilities once you create a demand for your services. take one step at a time.
Find Quality Education — Be careful how you spend your money on education. Check the background of the educator, references, and do they represent a special interest group like a product company. Make sure the education you receive is focused on you. The more you learn, the more you earn. As you learn more and more and gain experience, you will enhance your confidence and possibilities you never thought possible.
Love People — my mother who owned her own small salon gave me this advice that has stayed with me all these years. When you learn to love and care about people, you will love your profession. And if you love your profession and people , strive for excellence in exceeding client expectations? Your reward, a  greater appreciation of the career you have chosen.
Look and Act like a Professional —  Are we not in the profession of making our clients look and feel good about themselves? If you want to be respected and compensated like a professional, then you must look and act like a professional especially if you want to develop an upscale clientele and stand out among your competitors. After all we are in the image making business. A great appearance is invaluable.
Learn the Power of Social Media — these are excellent resources to connect with current and future customers.  We are in the tech age,learn how to promote yourself and market your skills. Your business Facebook page,Linked in. YouTube, Instagram, and more will prove to be invaluable in helping you build a high end clientele. Tutorials offer an excellent way to accomplish this cost effectively. I will be covering these topics and more during my how to build a high end clientele segment at my all day  Personal Growth Success seminar in Las Vegas on Monday November 13.
Develop Other Skills — what you didn't learn in beauty school is sabotaging your  full learning  and earning potential. Some of the topics I will be addressing are how to improve your people and communication skills, how to influence your customers, how to build a high end clientele, excelling at customer service, renewing your passion towards self improvement,client retention and a whole lot more. Refer to the above seminar link for full details.
  Salon owners does you staff and need a motivational and educational pick me up? On Monday November 13  in Las Vegas ,I will be presenting my popular personal/self help seminar for elite professionals who want to stand above the crowd.
Salon owners I also urge you to attend this seminar with your team, this will help you to develop your leadership skills and bond with your team.
Invest in your salon's greatest profit potential—- invest in educating your staff! Click here on the benefits to you and your team.
I urge you to share this blog post with your team.